Downtown Community Seder 4/10
Please join Tamid at our Downtown Community Seder
The Downtown Community Seder takes place on the 1st night of Passover, Monday, April 10th at 6 PM.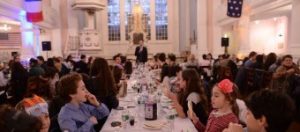 Seder will be led "family style" by Rabbi Darren and Musical Director Matt Turk and will include all the traditional Passover foods followed by Israeli dancing and fun. Our seder, like Tamid, is very family friendly!
Last year, we hosted 125 people to capacity at the Historic 9/11 Chapel, the oldest house of worship in New York City and the space where George Washington prayed on his inauguration day. It's a remarkable experience to celebrate ancient freedom in the house where our country dreamed of freedom in the modern era.Please RSVP with the number of adults and children you would like us to reserve for your family and friends before next Friday, April 3rd. 
Cost is $50 per adult, $25 per child. 
Want to prep for the seder and review some of the lessons, meaning, and songs? Review it all using our 
Tamid Online lessons
 for Passover.