Downtown Community Seder
Happy Passover!
We're producing a short on-demand Passover video with music to accompany your seder this year. Check back on Tuesday, April 12 at 5 PM. Happy Passover!
---
Haggadot Booklets to use at your Seder!
Download The 30-minute Positive Judaism Seder – click here. 
Download the Complete Positive Judaism Seder Guide – click here
Download a Family Picture Friendly Haggadah for use at Home – click here
---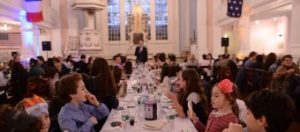 Next Year, In 2023, we hope to bring back our wonderful Downtown Seder, led "family style" by Rabbi Darren Levine and Tamid members. 
For nine years, our Seder took place at the Historic 9/11 Chapel in Lower Manhattan, the oldest house of worship in New York City and the space where George Washington prayed on his inauguration day. It's a remarkable experience to celebrate ancient freedom in the house where our country dreamed of freedom in the modern era.
---
$50 per adult
$25 per child age 3-12.
Free for infants/toddlers
---
Prep for the seder and review some of the lessons, meaning, and songs using our 
Tamid Online lessons
for Passover and listen to Rabbi Darren Levine speak about Passover on this Podcast.