2018 Downtown Community Seder
The Downtown Community Seder
The Downtown Community Seder takes place on the 1st night of Passover, Friday, March 30, 2018 at 6 PM. This year's theme is "The Positive Judaism Passover!"
THE 2018 SEDER IS SOLD OUT. WE APOLOGIZE BUT ARE BEYOND CAPACITY.
WE HOPE TO SEE YOU SOON AND HAPPY PASSOVER TO YOU AND YOUR LOVED ONES.
---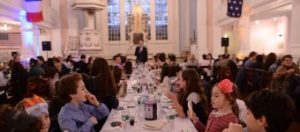 Seder will be led "family style" by Rabbi Darren Levine and Musical Director Matt Turk and will include all the traditional Passover foods followed by Israeli dancing and fun. Our seder, like Tamid, is very family friendly!
Our Seder takes place at the Historic 9/11 Chapel, 209 Broadway at Fulton St., the oldest house of worship in New York City and the space where George Washington prayed on his inauguration day. It's a remarkable experience to celebrate ancient freedom in the house where our country dreamed of freedom in the modern era.
---
Prep for the seder and review some of the lessons, meaning, and songs using our 
Tamid Online lessons
 for Passover and listen to Rabbi Darren Levine speak about Passover on this Podcast.
Happy Passover!