B'nai Mitzvah Class Project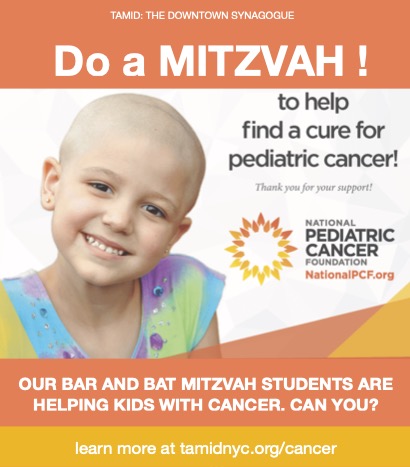 ---
Four ways you can support this years 7th Grade Class Mitzvah Project. Thank you!
Send a gift to a child at NewYork-Presbyterian Morgan Stanley Children's Hospital from this

Amazon Wish List

Make a financial contribution to the

National Pediatric Cancer Foundation

Bring a gift to our next Shabbat Gathering at the Chapel. Below is a list of ideas.
Host your own toy drive at school or in your community – use this flyer
---
Note all items brought to a toy collection event must be new, in original packaging, and not gift wrapped. 
General Needs:
Knit caps, various colors, school age to adult sizes
Ear strap extenders/ear protector for masks
Crayola colored pencils
Crayola crayons
Crayola markers, skinny and regular (washable)
Click top ink pens
Infant/Toddler
Rattles (no cloth)
Fisher-Price / Playskool Toys
Teething Rings / Small Baby Toys
Pacifiers
Infant toys (no stuffed toys)
Preschool
Coloring books for boys and girls
Play Cell Phones
Dinosaur toys
Shape Sorter Toys
Push Button / Interactive Books
V-Tech Interactive Toys
Medium/Small sized cars / Trucks / Other Vehicles
School Age
Barbies, all varieties, including male (Ken)
Action Figures (Avengers, Batman, Spiderman, Spiderman, Black Panther, Superman, Wonder Woman, etc.)
Small and medium sized toys for boys and girls (no stuffed toys)
Medium size dinosaur toys
Legos (small size/250 pieces or less)
Mini brands "surprise" toys
LOL items/balls/LOL surprise
Small Lego Kits (including for girls)
Barbies', Barbie Sets, Boy Barbies (Ken)
Matchbox Cars (individual and large packs)
Hot wheels
Hard body baby dolls (not stuffed)
Puzzles
Adolescent/Teen
Wireless earbuds and headphones
Universal chargers and blocks
Adapters for iPhone, USB-C
Uno cards
Playing cards
Activity Books (Word searches, Sudoku, Crossword, etc.)
Adult coloring books
Journals
Fidget Spinners
Rubik Cubes
Pop Its
Fidgets/toys
Sensory items/toys
Writing push top ink pens
Joke books
Riddle books
Nail polish, nail polish kits, and manicure sets
Individual nail polish remover pads
Makeup kits and other assorted makeup items (mascara, eyeliner, lip gloss, etc.)
Riddle Books and Mind Puzzles
Canvases / paint / paint brushes