Adult Jewish Learning
Jewish Courses for Adults
All members are invited to study in our Limmud Series for 2019-20. Courses will be six-weeks in length and will include a weekly in-person session, at-home readings, and a 1-1 meeting with the instructor. These classes are pitched at an introductory level with intellectual sophistication. Limmud classes are for Tamid members only and we invite you to join or renew your membership to participate fully in the life of the congregation. Please contact the office to enroll (connect@tamidnyc.org).
---
Ideas of Judaism and Modern Spiritual Life
Tuesdays, Oct 22 – Nov 26, 6:15 to 7:30 at Tamid
This course will explore modern ideas of Jewish life including holidays and living a life of meaning. All materials will be provided in class and will texts will range from ancient Jewish wisdom to modern thought. All welcome.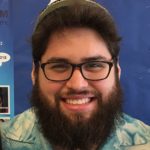 Instructor: Preston Neimeiser, Tamid's Rabbinic Intern
Returning to Tamid for his second year as our beloved Rabbinic Intern, Preston is a 4th year rabbinical student at Hebrew Union College-Jewish Institute for Religion in New York City. Preston is a native of Florida and a graduate of Florida State University. Preston has done advanced Jewish study in Jerusalem and has a rich background in working with Jewish youth at Summer Camps and on Teen and College trips to Israel.
---
Conversion to Judaism and Adult B'nai Mitzvah
Converting to Judaism is a wonderful and important step in a person's life and we welcome you to undergo your process with Tamid. We invite you to meet with our Rabbinic Intern, Preston Neimeiser, to discuss your pathway to Judaism.
For adults interested in celebrating Bar/Bat Mitzvah, we invite you to speak with Rabbi Darren to discuss your learning options.
Please contact the office (connect@tamidnyc.org) if you have any questions, thank you.
---