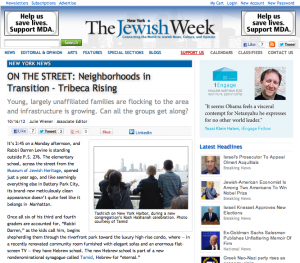 Neighborhoods in Transition – Tribeca Rising, October 16, 2012, by Julie Wiener, The Jewish Week: It's 2:45 on a Monday afternoon, and Rabbi Darren Levine is standing outside P.S. 276. The elementary school, across the street from theMuseum of Jewish Heritage, opened just a year ago, and like seemingly everything else in Battery Park City, its brand-new meticulously clean appearance doesn't quite feel like it belongs in  Manhattan.
Once all six of his third and fourth graders are accounted for, "Rabbi Darren," as the kids call him, begins shepherding them through the riverfront park toward the luxury high-rise condo, where — in a recently renovated community room furnished with elegant sofas and an enormous flat-screen TV — they have Hebrew school. The new Hebrew school is part of a new nondenominational synagogue calledTamid, Hebrew for "eternal."
With services and classes all over downtown, flexible membership options and a mix of programs, Rabbi Levine describes the new congregation — which currently has 145 members — as a "21st-century synagogue," designed to be as flexible, user-friendly and spiritually nourishing as possible.
A Reform rabbi, Levine was the executive director of the Jewish Community Project  — in nearby Tribeca — for six years. While neither he, nor officials at JCP, will discuss the circumstances of his departure last year, he says he started this new congregation, because he had long yearned to serve in more of a pulpit than administrative role and "I really believe this is the next chapter of what downtown needs."
Downtown — particularly Tribeca, Battery Park City and the Financial District — is in the midst of a Jewish renaissance. In the 11 years since 9/11, the neighborhoods surrounding the World Trade Center have not only survived, but thrived: the population of Community District 1, all of Manhattan below Canal, has almost doubled since 2000 — with 60,978 residents at the time of the 2010 U.S. Census.
While UJA-Federation of New York has not yet released its findings detailing which neighborhoods boast growing Jewish populations, many observers speculate that affluent, unaffiliated Jewish families with young children account for a large percentage of Lower Manhattan's new residents.
Amid the converted warehouses of Tribeca and modern high-rise condos of Battery Park City, the Jewish infrastructure is growing dramatically, joining established institutions like Battery Park Synagogue and the Synagogue for the Arts. This fall alone marked the debut of four Hebrew school programs, a new preschool and a new synagogue — along with various new drop-in offerings for small children and caregivers.
The question now is if all the new institutions can work together to collectively draw in the unaffiliated, or if they will merely compete for the same people.
"The good news is how many Jews experienced the High Holidays below Canal this year," says Michael Dorf, owner of City Winery, a former board member of JCP and founder of the now-defunct Tribeca Hebrew, an alternative Hebrew school that merged with JCP's school. (He is also a Jewish Week board member.) With four new venues that did not exist just a few years ago — including the Storahtelling services he hosts at the City Winery — "there were 1,000 tushies in seats."
The bad news, however, is that there is not "more collaboration" among different players, he says, citing, for example, the "acrimony" between Tamid and JCP.
To be sure, there is some cooperation: The JCP's recent Sukkah Block Party included Chabad and the Synagogue for the Arts; indeed, the synagogue donated its space when rainy weather forced the party inside. The Museum of Jewish Heritage's new family programs display flyers and materials for all the local Jewish institutions.
But, for all the talk about collaboration, it is hard for those loyal to the 10-year-old JCP not to view the arrival of Tamid and 92Y Tribeca, which has dramatically expanded its family programming this fall, with some trepidation.
---
Last Friday morning at rush hour, the 92Y Tribeca café was as busy as any Starbucks. While many of its customers were there just for the coffee and food (lunch options include a "house-cured" salmon Reuben sandwich, cardamom rice pudding and wasabi deviled eggs), the counters stacked with 92Y Tribeca catalogs and flyers serve as an advertisement/outreach tool.
Down the hall, in a carpeted room, the charismatic Karina Zilberman is using her voice, guitar and homemade puppets to get tots and their mothers singing, dancing, laughing — and learning about Shabbat.
At the 92nd Street Y's uptown headquarters, Zilberman's "Shababa," launched in 2007, regularly attracts 100 people on Friday mornings, spinning off into Saturday-morning services, a challah-baking class and related offerings.
On this Friday in Tribeca, with only three moms and their children, the program is reminiscent of the early days uptown, when Zilberman would meet in the lobby with a handful of families.
One mom, who recently moved from Los Angeles, says she found out about Shababa online and is "so excited to hear they're coming downtown." She added that she has many friends with children at the Y's early childhood program uptown and is hoping the Y will eventually offer a satellite school downtown.
Another mother, Mara Sonnenschein, has lived in Battery Park City for almost two years, and says she's already noticed more Jewish offerings since arriving. While her 3-year-old daughter Phoebe is in a secular nursery school, she's thinking of later enrolling her in JCP for Hebrew school.
Referring to Shababa, Sonnenschein says, "This is great. We're Jewish but not very religious, and I want her to have a sense of what the religion is about."
The 15,800-square-foot 92Y Tribeca facility, which boasts a 70-person screening room and a hip bar/performance space, has been around since 2008, but until recently its focus was on cultural offerings for 20- and 30-somethings.
Sol Adler, the 92nd Street Y's executive director, says that the mission has shifted because, "people approached us to ask about family programs."
While Shababa and Connect, the Y's alternative Hebrew school, were still in their early stages uptown, Adler was reluctant to bring them to a new location.
Now, while Shababa is still looking for its following downtown, Connect, which started last month, has already attracted more than 40 families, "with very little effort," notes Adler.
"We didn't spend a lot of money promoting and advertising," he says. "It was mostly word of mouth."
That's despite the fact that, in addition to ongoing schools such as JCP's, three other Hebrew schools opened this fall below Canal Street.
Asked whether the community can support all these programs, Adler says, "It feels to me that the community is not only large enough" for multiple institutions, "but is growing. There's more than enough for everyone."
As for the challenge of competition versus collaboration, he says, "Let's be a little competitive, let's test each other. In our heart of hearts, we don't want to hurt anyone, but that challenge sharpens you."
---
The growth in Battery Park City and Tribeca is remarkable when one considers that, just 11 years ago, with the smell of smoke and ash still in the air, downtown hardly seemed like a safe place to raise a family.
"9/11 in an odd way only accentuated how beautiful Tribeca was, and developers were able to leverage opportunities as a result," says City Winery's Dorf. "We realized life was short and precious and we need to invest in the future and in tikkun olam," Dorf says. "People were ready and responsive. In a weird way, it was a big shofar blow."
Not only are so many buildings new or recently converted from commercial/industrial use, there are many, many young families, newly arrived and hungry for community.
Anecdotal reports suggest that large numbers are intermarried and very few are Orthodox or observant.
The few kosher establishments in the area cater to people who work, rather than live, downtown. Nonetheless, one can, for $39 per person, purchase Kutsher's Tribeca's "Shabbat in a Box," a takeout kosher-style (but not kosher) meal featuring matzah ball soup, challah, roast chicken, roasted Brussels sprouts and desserts. Candles and "wild halibut gefilte fish" can be added for an extra fee.
Lower Manhattan "is new territory on a lot of levels," says Tamid's Rabbi Levine, noting that with all the new buildings, there is "an energy about the social infrastructure here," with much of it just now catching up to serve the growing population.
Starting a synagogue in that kind of environment is exciting, he says, adding "you don't get that chance in many settings."
Betsy Aldredge, public relations manager at the Museum of Jewish Heritage [full disclosure: this writer gave a speech there last year], says the museum's new family programs largely appeal to unaffiliated families that "are testing the waters."
"Maybe they feel their kids are too wiggly to go to services, or maybe they are just thinking about how they want to raise the family," she said, adding, "There is nothing intimidating about going to a museum and seeing a puppet show or doing a sing-a-long with your family."
Similarly, the Chabad of Battery Park City, which sprung up two years ago, is concentrating on young families.
"Our main focus is to make Judaism accessible to all the Jewish families living in the neighborhood and to make it fun for the children," says Rabbi Chaim Zaklos, as his wife Mushka finishes leading a challah-braiding class, held this week in the sukkah, just behind the Museum of Jewish Heritage, overlooking New York Harbor.
"We love adults, but it's all about the kids in this neighborhood," he adds.
Chani Paris, of Chabad of Tribeca/Soho — which just moved into an airy new space that includes a climbing wall and a preschool stocked with brand-new wooden furniture and wooden toys — echoes that assessment.
"This is a very family-friendly area," she says. "We have a lot of success with anything that involves children."
---
On a cold and rainy Sunday, hundreds of young children and their parents are crowding the lobby and social hall of the Synagogue for the Arts.
While the children choose from a carnival-like array of activities  — making edible sukkahs and tie-dyed shirts, learning how to shake a lulav, listening to stories inside a small pop-up sukkah, dancing to Jewish kids' music ("Abba, abba, why did you goof? Why'd you build a sukkah without any roof!" croons one performer) — the parents, clutching their offspring's new creations, mingle and chat.
While she waits for her 5-year-old daughter to finish an art project, Rachel Roth, who has lived in Tribeca since 2005, tells The Jewish Week, "We didn't even think about [Jewish life] when we moved here, because we didn't have kids."
Now her daughter, who attended the JCP preschool, commutes, like several other downtown kids, to the Upper West Side's Heschel School.
"It's amazing, very welcoming, very community-like," Roth says of the lower Manhattan Jewish community.
Another family at the Sukkot party has lived in the area only a month, but has already discovered its Jewish life. Since moving from Hong Kong with their 5-year-old daughter, Ailsa and Josh (they did not give their last names) — she's Chinese and Christian, he's from Miami and Jewish — say they have been impressed by how "warm and embracing" the Jewish community is downtown.
"We found our way to JCP, because we'd been going to the JCC in Hong Kong, and my daughter said she missed the Jewish celebrations," says Ailsa. "But even on the street and at my daughter's [public] school, every other mom I meet seems to be a Jewish mom, and they were all recommending JCP."
---
Thriving In Tribeca
A timeline of Jewish programs launched downtown since 2001.
2002:  Jewish Community Project (jcpdowntown.org)
Offerings include: Preschool, Hebrew school, family programs, Bim Bam Jewish children's music program, High Holiday services
2008: 92Y Tribeca
(92y.org/Tribeca/index)
Offerings include: Cultural events, adult education, High Holiday services, Connect Jewish After-School Hebrew school (new this year), Shababa Jewish children's music program (new this year)
2009: Chabad of Tribeca/Soho (chabadoftribeca.com/)
Offerings include: Synagogue services, adult education, family programs, Hebrew school, preschool (schools opened this year).
2010: Chabad of Battery Park City (chabadbpc.com)
Offerings include: Synagogue services, adult education, family programs, Hebrew school (new this year).
2011: New Families, New Traditions at Museum of Jewish Heritage (mjhnyc.org/newfamilies/)
Offerings include: Jewish concerts and puppet shows for small children.
2012: Tamid (tamidnyc.org/)
Offerings include: Synagogue services, Hebrew school in multiple locations, adult education, volunteer/service opportunities.