Thank you for joining Tamid Online!
Welcome!
Step 1. Get Zoom! Our classes and learning sessions take place on Zoom. Download for free to your computer or device.
Step 2. Click the Join Now link 5 minutes before the start of each class session. Every session gets a new meeting link so you must join each meeting anew. The meeting ID is provided if you want to join directly via Zoom.
Step 3. Download PDF's prior to the start of each session. Some classes ask that you read material in advance. Enjoy!
---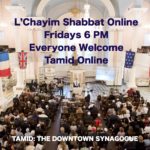 L'Chayim Shabbat, 6 PM Fridays
Let's bring our Tamid family together every Friday for 18 minutes of prayer, song, story, and fellowship. Set your table with candlesticks and a cup for kiddush wine as we welcome Shabbat together. Everyone welcome!
Click here Friday 6 PM or paste https://zoom.us/j/324350101
---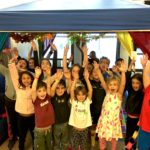 Hebrew School, teens, and b'nai mitzvah tutoring
Tamid Online is a great way to learn with your teachers and friends. Sessions meet online on the same  regular weekly time schedule. our flipped classroom means that your child will engage independently with the material prior to each session. Please download and print materials in advance of each session so the children can follow along together.
K-12 students, click here.
---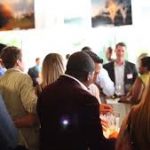 Adult Programs
Join fellow Tamid members to explore Jewish learning in the time of coronavirus with Rabbi Darren and guests. Each week, new classes and learning options will engage your mind and spirit. please join the class link five minutes prior to the start of each 30 minute session.
*Tuesday, March 31, 8 PM, Conversation with Allison Penn, psychoanalyst and Tamid member. We'll be talking about tips for staying mentally, emotionally, and spiritually strong during this time, and taking your questions. click to join Tuesday or paste ID: https://zoom.us/j/953972383
*UPCOMING: Thursday, April 2, 8 PM, Creating a Positive Judaism Passover Seder in the time of Covid-19. Rabbi Darren will offer tips for seders of all sizes and online and introduce the updated Haggadah supplement. Download the Full Haggadah (here) or the 15-minute Seder (here). click to join Thursday or paste ID: https://zoom.us/j/530205191
*UPCOMING: Tuesday, April 7, 8 PM, Conversation with Dr. Ira Schulman, Medical Director of the Langone NYU Trinity Center and Tamid member. We'll be discussing the newest information about Covid-19 and how to best keep yourself and your family safe. And of course, there will be time for your questions. click to join or paste ID: https://zoom.us/j/953972383
---
Tamid U Online
Join fellow Tamid college age students and current 12 graders for "Positive Judaism 101:Living Well and Happy in All Times." Meets on Tuesdays with Rabbi Darren from 3:10PM to 4:00PM, starting Tuesday, March 24. Please RSVP with your current email address. Students will be using "Positive Judaism: For a Lifetime of Wellbeing and Happiness" as their textbook.
Tuesdays 3:10 PM click to join or ID: zoom.us/j/833867426
---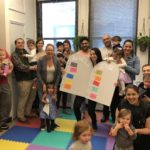 Shaboom!
Are you ready to have some fun?!? Let's get our youngest set and family together on Friday mornings at 9 AM for Shaboom with Chesney! Chesney will delight you with story, song, and a special project. You bring your kids, parents, and grandparents together and we'll bring the Shaboom!
Click here 9AM on Friday mornings.
---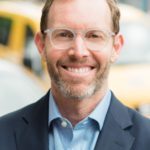 Rabbi PT
Rabbi Darren is challenging you to Rabbi PT. Everyone knows the benefits of keeping physically fit so in addition to eating well, keep a daily log of your workouts. Rabbi Darren will post his training sessions to give you some ideas about training at home. When the dust settles, Rabbi Darren will treat everyone who trained for 45 minutes a day out for breakfast. Stay fit! Click here for Rabbi PT

---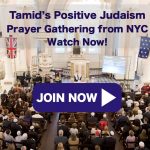 Pray at Home
Looking for some Tamid prayer inspiration at home? Access prayer from the chapel, a sampling of holiday sermons, and some of our favorite Jewish music. Click here for prayer livestream. Or, download and listen to Neshimat Tamid: Eternal Soul Itunes or Soundcloud. Click here for Neshimat Tamid.
---
Cooking at Home with Christina
Christina has recipes for some of your favorite Jewish foods! Cook blintzes, chicken soup, latkes, and even a special moroccan chicken dish. Have a great time cooking at home with these one of a kind recipes! Click here.
*April 5, 4 PM, Passover Cooking Class. Click here for the Zoom feed or paste ID: https://zoom.us/j/996002563
PDF for Sephardic Charoset and ingredient list – click here
PDF for Christina's Macaroons and ingredient list – click here
---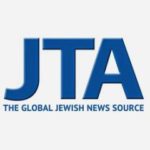 JTA Jewish Telegraphic Agency
Want to stay up to date with Jewish news from around the world? Get JTA in your inbox. It's free and one it's one of the most trusted sites for global Jewish news. Click here to sign-up.
---
Thank you for joining us online! We look forward to seeing you!