Thank you for joining Tamid Online!
Welcome!
Step 1. Get Zoom! Our  sessions take place on Zoom. Download for free to your computer or device.
Step 2. Join each meeting 5 minutes before the start of each session. The meeting ID is provided if you want to join directly via Zoom.
Step 3. Turn on your camera, turn off your microphone, and since we are in a public forum, we ask that everyone please adhere to the best online behaviors. Thank you!
---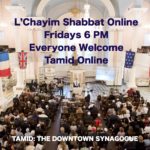 L'Chayim Shabbat, 6 PM Fridays
Let's bring our Tamid family together every Friday for 18 minutes of prayer, song, story, and fellowship. Set your table with candlesticks and a cup for kiddush wine as we welcome Shabbat together. Everyone welcome!
Click here Friday 6 PM or paste https://zoom.us/j/324350101
Password: 042709
---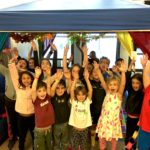 Hebrew School, teens, and b'nai mitzvah tutoring
Tamid Online is a great way to learn with your teachers and friends. Sessions meet online on the same  regular weekly time schedule. our flipped classroom means that your child will engage independently with the material prior to each session. Please download and print materials in advance of each session so the children can follow along together.
K-12 students, click here.
---
Tamid U Online, Tuesdays, 3:10 PM
Join fellow Tamid college age students and current 12 graders for "Positive Judaism 101:Living Well and Happy in All Times." Meets on Tuesdays with Rabbi Darren from 3:10PM to 4:00PM, starting Tuesday, March 24. Please RSVP with your current email address. Students will be using "Positive Judaism: For a Lifetime of Wellbeing and Happiness" as their textbook.
click to join or ID: zoom.us/j/833867426
Password: 368476
---
Talkabout, Most Tuesdays, 8 PM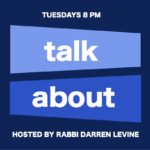 Talkabout is a weekly conversation about the human experience with a diverse array of cultural voices. Hosted by Rabbi Darren Levine, discussion topics explore politics, literature, religion and society, along with matters of the heart and mind.
Zoom: https://zoom.us/j/953972383
Password: 612047
---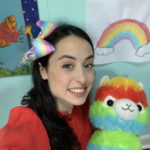 Shaboom!, Fridays at 9 AM
Are you ready to have some fun?!? Let's get our youngest set and family together on Friday mornings at 9 AM for Shaboom with Chesney! Chesney will delight you with story, song, and a special project. You bring your kids, parents, and grandparents together and we'll bring the Shaboom!
Shaboom is on vacation until Labor Day
---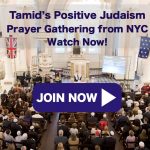 Pray at Home, Every Day!
Looking for some Tamid prayer inspiration at home? Access prayer from the chapel, a sampling of holiday sermons, and some of our favorite Jewish music.
Click here for prayer livestream. Or, download and listen to Neshimat Tamid: Eternal Soul Itunes or Soundcloud. Click here for Neshimat Tamid.
---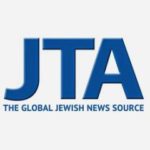 JTA Jewish Telegraphic Agency, Daily News!
Want to stay up to date with Jewish news from around the world? Get JTA in your inbox. It's free and one it's one of the most trusted sites for global Jewish news. Click here to sign-up.
---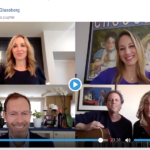 Passover Seder, ABC Online
Did you see Tamid on ABC? Watch ABC News Reporter Lauren Glassberg, Rabbi Darren, Matt Turk, and Robin Speigelman as they bring you a Passover Special in the time of Covid-19.
Click here to watch the ABC-7 Passover Special
---
Thank you for joining us online! We look forward to seeing you!