In the News
Share these recent news articles with friends and family and help share our mission!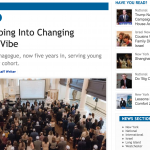 Tamid Tapping into the Jewish Vibe Downtown, Dec 13, 2016 by Steve Lipman, The Jewish Week. "Chanukah came early to Lower Manhattan this year. On the first Friday evening of December, three weeks before the start of the Festival of Lights, some 250 members of Tamid: The Downtown Synagogue gathered in "The 9/11 Chapel", 100 yards from the site . . . Read the Article on TheJewishWeek.com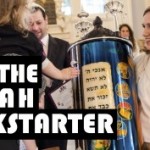 Tamid Started a Kickstarter Campaign for their New Torah, Oct 28, 2016, Kveller.com, by Alla Liberman. "My mother laughs when she thinks about me as a synagogue member and chairwoman of our temple's new campaign to write a Torah. As the daughter of immigrants, my family was not closely connected to Judaism, because in the Ukraine, religion . . Read the Article on Kveller.com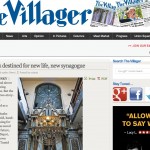 Meseritz Ark Destined for New Synagogue, June 20, 2013, The Villager, by Tequila Minsky. "In what is being hailed as a true-life story of b'shert (destiny), Anshe Meseritz's 100-year-old, hand-carved ark — the housing for the Torah scroll — was saved from some unknown future, perhaps Demolition Depot, when the new Downtown Jewish congregation Tamid . . . Read the Article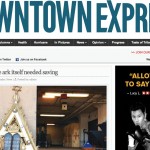 This Time, The Ark Itself Needed Saving, June 19, 2013, Downtown Express, by Tequila Minsky, "It was put together with hammers and screws, said the rabbi, "and that's what we used. Each of the right and left panels took an hour to remove." They used crowbars to pry the segments off the walls — 30 pieces, roughly 450 pounds of oak carvings, which had been glued on. . . Read the Article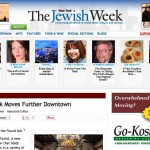 Historic Ark Moves Further Downtown, April 30, 2013, The Jewish Week: "Call it "Raiders of the Found Ark." Two months ago, Tamid, a new liberal congregation that holds services and classes in a variety of downtown locations, began raising money to build an ark to hold its Torah scroll.  A week and a half ago . . .Read the Article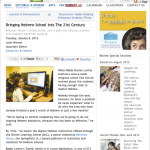 Bringing Hebrew School into the 21st Century, January 8, 2013, The Jewish Week: When Rabbi Darren Levine started a once-a-week religious school this fall,he worried about the students having enough time to master Hebrew.Midway through the year, however, he faces a problem he never expected . . .Read the Article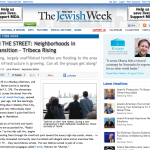 Neighborhoods in Transition – Tribeca Rising,
October 16, 2012, by Julie Wiener, The Jewish Week: It's 2:45 on a Monday afternoon, and Rabbi Darren Levine is standing outside P.S. 276. The elementary school, across the street from The Museum of Jewish Heritage opened just a year ago, and like seemingly everything else in Battery Park City, its brand-new meticulously clean appearance . . .
Read the Article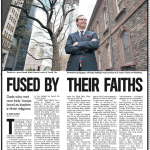 Fused By Faiths, Newsday, April 17, 2012, by Maria Alverez
MANHATTAN: "Two dads developed a relationship watching their sons play basketball at a neighborhood playground, never knowing they had a common link — until an opportune moment arose for a seed to be planted.. . . Read the Article – Click Here
New Synagogue to Open Downtown, Nearsay NYC, April 11, 2012
"In Lower Manhattan, a new style of worship for the Jewish faith is joining the area. The Tamid Synagogue will be opening later this year with a mission of bringing the ideals of Jewish faith to individuals and families living within the Tribeca, Battery Park City, FiDi, and SoHo area. Read more. . click here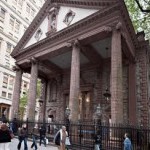 New Synagogue to Share Historic St. Paul's, DNAinfo, April 6, 2012, by Serena Solomon
MANHATTAN: "Tamid will be a 21st century urban synagogue built upon the three pillars of Judaism: prayer, learning, and service to others," said Rabbi Darren Levine, "Tamid has been a dream of mine – to have a house of prayer, progressive in spirit, for the Jewish community."  . . . . Read more – click here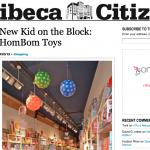 Tamid to Open in the Fall 2012, Tribeca Citizen, April 6, 2012
Tamid: The Downtown Synagogue will open in the Fall 2012 with the mission to create Jewish opportunities for prayer, learning, and service for families, individuals and youth living in Lower Manhattan. Tamid will be led by three Reform rabbis, Darren Levine, Darcie Crystal, and Michael Mellen, all friends and colleagues dating back to rabbinical school in the late 1990's . . . . click for more