Young Families and Children love PJ Library!
PJ Library at Tamid offers two complimentary and fun pathways to engage young children in Jewish life. First, bring your children to our Young Family Shabbat and Holiday Programs which include story, song, and a nosh. Second, enroll in our "books at home" program and we will send your child (birth to age 9) a Jewish book each month.
---
2018-19 Young Family Calendar
Rosh Hashanah, Sept. 10, 9 AM
Yom Kippur, Sept. 19, 9 AM
Bring your children to celebrate the high holidays through story, song and shofar in the Chapel. This is a great introduction to the music and sounds of the High Holy Days, the shofar blasts, and apples and honey! Meets at the 9/11 Chapel on Broadway and Vesey Streets. Click here to make your reservations 
Shabbat, Story, Music, and Bagels 10-11:30 AM
Oct. 20, Nov. 17, Dec. 15, Jan. 12, Feb. 9, Mar. 16, Apr. 13, May 18
Parents, Grandparents, and special friends are welcome to bring your little ones for PJ Shabbat including story-time, music, blessings for children, art, and bagels. We meet at Tamid, 299 Broadway, #1020 on the following Saturday mornings:
Please RSVP to Chesney as space is limited: "chesney@tamidnyc.org"
---
Enroll in "PJ Library Books at Home"
For Children ages birth to nine who live in Lower Manhattan, we want to help build your Jewish library. We'll send you a book each month to read with your family to build your Jewish vocabulary and to introduce you to the fun of being Jewish!
To receive free Jewish stories and songs each month, sign up HERE
---
Do you know about The Tamid Babysitting Co-op?
Our teen-age sitters are trained in how to engage children positively in your home, take responsibility, and they are young people that from within our Tamid family – teens you can trust. Each sitter is A.R.C. CPR certified. This service is for Tamid members and their friends.
Click here for more info and to meet your Tamid Sitters!
---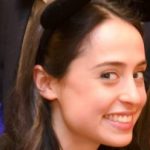 Meet Chesney Polis
Chesney is Tamid's Young Family educator and the host of our PJ Library Programs. You may also recognize Chesney and her voice as she is on our Worship Team at all our shabbat and holiday gatherings. Chesney loves children, music, and creating positive Jewish experiences for kids and families of all ages.