On-Line Hebrew Learning Center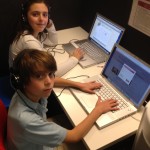 Shalom Everyone! Welcome to your quick access guide for Alef Bet Quest and Kol Yisrael Hebrew levels. To Access our Hebrew On-line Program follow these steps:
1. Go to: www.behrmanhouse.com
2. Click LOG-IN at the top of the behrmanhouse.com home page.
3. Insert your user email and password (child's first name) in the pop-up box
4. Click the brown LOGIN button
5. Click "Enter the On-Line Learning Center" (on the right of the screen)
6. Click the green "Take me to my synagogue" button
7. Find your class in one of the blue boxes: "Active Classes." Click the arrow.
8. Welcome to your class. Click the  green PLAY button to begin your lesson.
9. The program will now load, give it a few minutes, it's a large file.
10. Once the program loads, you will be taken to the Introduction Page. After watching it once, you may choose to SKIP INTRO.
11. At the conclusion of each lesson, you have the choice to play a game or continue with a new lesson. Good luck and have fun!Have fun and enjoy. Remember, learning Hebrew is FUN!