#132 Immigration and Jewish Settlers
#132 Modern Immigration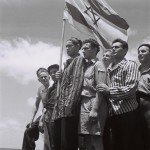 In this lesson you will learn about the places and the reasons why Jews from all over the world moved to Israel. You will see that Jewish people came by foot, by boat, by train, and by plane to live and settle in Israel.
---
#1 KNOW THIS:  Useful Vocabulary
Aliyah: To "move up" and immigrate to Israel
The Law of Return: gives every Jew the legal right to live in Israel
Theodore Hertzl: Founder of the Zionist Movement
Jewish National Fund: Organization established to help develop the land of Israel
---
#2. STUDY THIS:  Immigration to Israel, the First Aliyah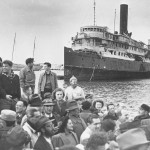 The first wave of Jewish immigrants came to Israel during the First Aliyah. Aliyah is the Hebrew word for "ascending" or "moving up" and this implies that if you immigrate to Israel, that you are "moving up." The First Aliyah was from 1882 to 1903 and is known as the "Farmer's Aliyah" because most of the 25,000 people that arrived needed to cultivate the desert land to make a home for themselves. 

---
#3. WATCH. Images of Early Aliyah to Israel
---
#4 READ: The Law of Return
The Law of Return is legislation enacted by Israel in 1950, that gives all Jews, persons of Jewish ancestry, and spouses of Jews the right to immigrate to and settle in Israel and obtain citizenship, and obliges the Israeli government to facilitate their immigration. Originally, the law applied to Jews only, until a 1970 amendment stated that the rights "are also vested in a child and a grandchild of a Jew, the spouse of a Jew, the spouse of a child of a Jew and the spouse of a grandchild of a Jew". This resulted in several hundreds of thousands of persons fitting the above criteria immigrating to Israel (mainly from the former Soviet Union) but not being recognized as Jews by the Israeli religious authorities, which on the basis of halakha recognize only the child of a Jewish mother as being Jewish. Moreover, some of these immigrants, though having a Jewish grandparent, are known to be practicing Christians. People who would be otherwise eligible for this law can be excluded if they can reasonably be considered to constitute a danger to the welfare of the state, have a criminal past, or are wanted fugitives in their countries with the exception of persecution victims. Jews who converted to another religion can also be denied the right of return. Since 1950 2,734,245 Jews have immigrated to Israel.[24]
---
#5: WATCH: The Story of JNF

---
#6 STUDY THIS: JNF, Jewish National Fund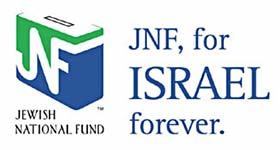 The Jewish National Fund (Hebrew: קרן קימת לישראל,Keren Kayemet LeYisrael) (abbreviated as JNF, and sometimes KKL) was founded in 1901 to buy and develop land in Ottoman Palestine (later British Mandate for Palestine, and subsequently Israel and the Palestinian territories) for Jewish settlement.[1] The JNF is a non-profit organization.[2][3] By 2007, it owned 13% of the total land in Israel.[4] Since its inception, the JNF says it has planted over 240 million trees in Israel. It has also built 180 dams and reservoirs, developed 250,000 acres (1,000 km2) of land and established more than 1,000 parks.[5]
---
#7 RESPOND AND REACT
1. What is the Hebrew word for "ascending" or "moving up?"
2. How many Jews arrived in Israel during the First Aliyah?
3. What is the Law of Return?
4. Who was Theodore Hertzl?
5. What is the name of the organization that helped to turn desert into forests in Israel?
---
Need some help?
We're here for you. At any time, if you have any questions, please contact one of our teachers so we can help you.
Also, at the end of the session, remember to review your responses in your Tamid Workbook so you can get credit for this lesson. Behatzlacha (Hebrew for good luck)!
You can reach us at (646)360-0689 or connect@tamidnyc.org