Donate
Thank you for supporting Tamid. Our goal in 2015-16 is to raise $200,000 and 100% participation from everyone involved in Tamid. "It Takes a Village" is the theme of our fundraising campaign this year because it takes a village to accomplish our goals.
One of the greatest rabbis of all time, Moses Maimonides, created a list of the most important human values. Tzedaka, Hebrew for charity, was near the top of the list. We have three recommended donation areas to support Tamid:
1. Tamid Growth Fund meets the needs of our school, shabbat and holidays
2. Scholarship Fund provides access to Jewish education at Tamid for families in need
3. New Torah Fund supports our new Torah. Thank you!
There are several ways to make a donation to Tamid and your gift will have a profound impact on our community at this early stage and every gift is fully tax-deductible.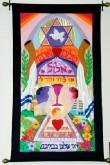 1. Secure online credit card donations
2. Call the office -we can take your credit card over the phone: (646) 360-0689
3. Send your check to: Tamid: The Downtown Synagogue: 299 Broadway, Suite 1020, New York, NY 10007
4. For Corporate Matching gifts, please use our Tax ID# 45-4634388
5. For Stock Transfers, please contact our office and we will provide you with our brokerage account and DTC numbers.
Tamid office phone: (646)360-0689
email: connect@tamidnyc.org
Thank you for supporting Tamid!