Tamid Downtown Live Book Group
Tamid Downtown Live Book Group
The Tamid Downtown Live Book Group discusses books by local authors, books set in New York City, books by Jewish authors, or any combination thereof. We look forward to meeting you and sharing our love for books and discussion, in person with the author or translator.
New book events are posted regularly. Please join our book list by sending an email to connect@tamidnyc.org.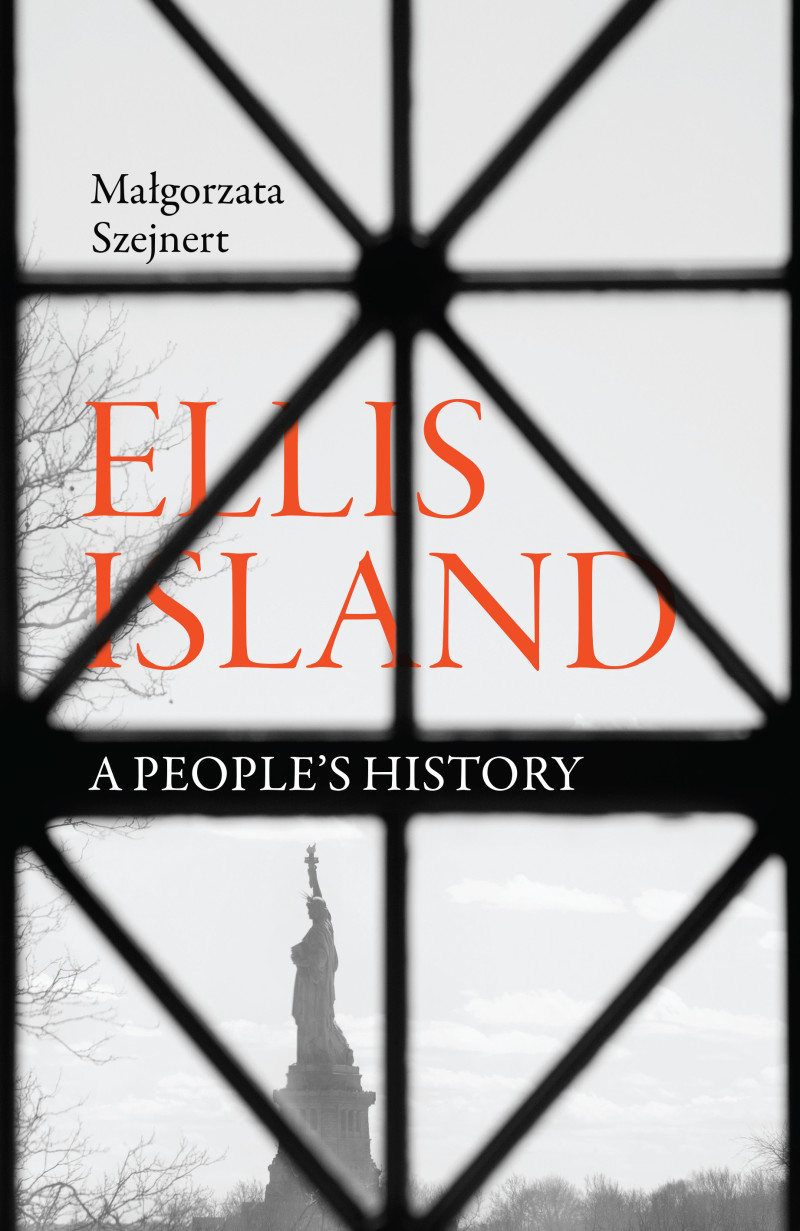 "Meet" Malgorzata Sejnert (author) and Sean Gasper Bye (translator) to discuss, "Ellis Island: A People's History"
Sunday, October 25, 2020 – 12 PM on Zoom
Zoom meeting ID: 816 6498 6101
password: x9Tyqz
A dramatic, multi-vocal account of the personal agonies and ecstasies that played out within the walls of Ellis Island, as told by Poland's greatest living journalist
This is the people's history of Ellis Island—the people who passed through it, and the people who were turned away from it.
From Annie Moore, the Irishwoman who was the first to be processed there, to Arne Peterssen, the Norwegian who was the last to be taken away from the island via the official ferry boat in 1954, Ellis Island weaves together the personal experiences of forgotten individuals with those who live on in history: Fiorello La Guardia, Lee Iacocca, and other American leaders whose paths led them to the Island for various reasons through the years.
Award-winning journalist Malgorzata Szejnert draws on unpublished testimonies, memoirs, archival photographs, and correspondence from many internees and immigrants, including Russians, Italians, Jews, Japanese, Germans, and Poles. At the book's core is a trove of personal letters from immigrants to their loved ones back home—letters which were confiscated and never delivered, finally discovered in a basement in Warsaw.
---
"Meet" Jami Attenberg and discuss All This Could Be Yours
Wednesday, May 27, 2020
6:30 PM on Zoom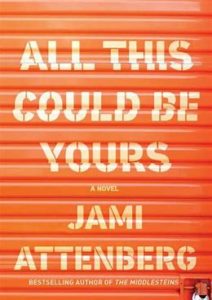 From critically acclaimed New York Times best-selling author Jami Attenberg comes a novel of family secrets: think the drama of Big Little Lies set in the heat of a New Orleans summer
"If I know why they are the way they are, then maybe I can learn why I am the way I am," says Alex Tuchman of her parents. Now that her father is on his deathbed, Alex—a strong-headed lawyer, devoted mother, and loving sister–feels she can finally unearth the secrets of who Victor is and what he did over the course of his life and career. (A power-hungry real estate developer, he is, by all accounts, a bad man.) She travels to New Orleans to be with her family, but mostly to interrogate her tightlipped mother, Barbra.
As Barbra fends off Alex's unrelenting questions, she reflects on her tumultuous life with Victor. Meanwhile Gary, Alex's brother, is incommunicado, trying to get his movie career off the ground in Los Angeles. And Gary's wife, Twyla, is having a nervous breakdown, buying up all the lipstick in drug stores around New Orleans and bursting into crying fits. Dysfunction is at its peak. As each family member grapples with Victor's history, they must figure out a way to move forward—with one another, for themselves, and for the sake of their children.
---
Discuss The Ten Lives of Nishino with translator, Allison Powell
Wednesday, February 5th, 2019
6:30 at Tamid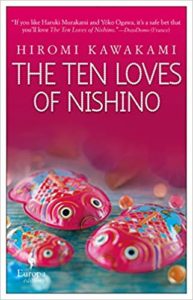 Best-selling and beloved Japanese author Hiromi Kawakami (The Nakano Thrift Shop) tells the story of an enigmatic man through the voices of ten remarkable women who have loved him.
Each woman has succumbed, even if only for an hour, to that seductive, imprudent, and furtively feline man who drifted so naturally into their lives. Still clinging to the vivid memory of his warm breath and his indecipherable sentences, ten women tell their stories as they attempt to recreate the image of the unfathomable Nishino.
Like a modern Decameron, this humorous, sensual, and touching novel by one of Japan's best-selling and most beloved writers is a powerful and embracing portrait of the human comedy in ten voices. Driven by desires that are at once unique and common, the women in this book are modern, familiar to us, and still mysterious. A little like Nishino himself.
Allison Markin Powell is a literary translator and editor based in New York City. Her translations include works by Osamu Dazai, Fuminori Nakamura, and Kanako Nishi, and she was the guest editor for the first Japan issue of Words Without Borders. She maintains the database Japanese Literature in English at www.japaneseliteratureinenglish.com.
---
Meet Juliet Grames and discuss the Seven or Eight Deaths of Stella Fortuna
Tuesday, September 24, 2019
6:15 at Tamid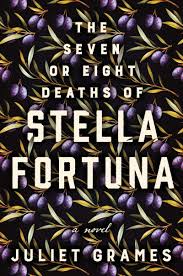 For Stella Fortuna, death has always been a part of life. Stella's childhood is full of strange, life-threatening incidents—moments where ordinary situations like cooking eggplant or feeding the pigs inexplicably take lethal turns. Even Stella's own mother is convinced that her daughter is cursed or haunted.
In her rugged Italian village, Stella is considered an oddity—beautiful and smart, insolent and cold. Stella uses her peculiar toughness to protect her slower, plainer baby sister Tina from life's harshest realities. But she also provokes the ire of her father Antonio: a man who demands subservience from women and whose greatest gift to his family is his absence.
When the Fortunas emigrate to America on the cusp of World War II, Stella and Tina must come of age side-by-side in a hostile new world with strict expectations for each of them. Soon Stella learns that her survival is worthless without the one thing her family will deny her at any cost: her independence.
In present-day Connecticut, one family member tells this heartrending story, determined to understand the persisting rift between the now-elderly Stella and Tina. A richly told debut, The Seven or Eight Deaths of Stella Fortuna is a tale of family transgressions as ancient and twisted as the olive branch that could heal them.
---
Meet Mary Morris and discuss Gateway to the Moon
Tuesday, May 21, 2019
6:15 PM at Tamid
(originally the meet time was 7 PM. The official new time is 6:15 PM)
In 1492, the Jewish and Muslim populations of Spain were expelled, and Columbus set sail for America. Luis de Torres, a Spanish Jew, accompanies Columbus as his interpreter. His journey is only the beginning of a long migration, across many generations. Over the centuries, de Torres' descendants travel from Spain and Portugal to Mexico, finally settling in the hills of New Mexico. Five hundred years later, it is in these same hills that Miguel Torres, a young amateur astronomer, finds himself trying to understand the mystery that surrounds him and the town he grew up in.
Entrada de la Luna is a place that holds a profound secret–one that its residents cannot even imagine. It is also a place that ambitious children, such as Miguel, try to leave. Poor health, broken marriages, and poverty are the norm. Luck is unusual. When Miguel sees a flyer for a babysitting job, he jumps at the opportunity, and begins work for a Jewish family new to the area. Rachel Rothstein is not the sort of parent Miguel expected. A frustrated artist, Rachel moved her family from New York in search of a fresh start, but so far New Mexico has not solved any of the problems she brought with her. Miguel loves the work, yet he is surprised to find many of the Rothstein family's customs similar to ones he's grown up with and never understood.
Interwoven throughout the present-day narrative are the powerful stories of the ancestors of Entrada's residents, highlighting the torture, pursuit, and resistance of the Jewish people. A beautiful novel of shared history, Gateway to the Moon is a moving and memorable portrait of a family and its journey through the centuries.
---
Monday, April 30, 2018
7 PM at Metropolitan College of New York
(MCNY: entrance at 60 West Street in Lower Manhattan)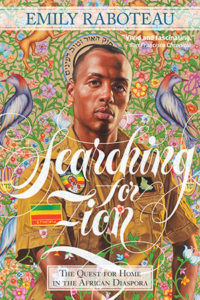 At the age of twenty-three, Emily Raboteau traveled to Israel to visit her childhood best friend. While her friend appeared to have found a place to belong, Raboteau could not yet say the same for herself. As a biracial woman from a country still divided along racial lines, she'd never exactly felt at home in America. But as a reggae fan and the daughter of a historian of African-American religion, Raboteau knew of "Zion" as a place black people yearned to be. She'd heard about it on Bob Marley's album, Exodus and in the speeches of Martin Luther King. She understood it as a metaphor for freedom, a spiritual realm rather than a geographical one. Now in Israel, the Jewish Zion, she was surprised to discover black Jews. More surprising was the story of how they got there. Inspired by their exodus, Raboteau sought out other black communities that left home in search of a Promised Land. Her question for them is same she asks herself: have you found the home you're looking for?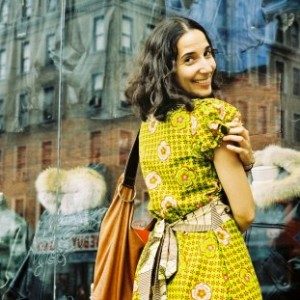 Emily Raboteau is the author of a novel, The Professor's Daughter. Her fiction and essays have been widely published and anthologized in Best American Short Stories, The New York Times, The New Yorker, Tin House, Buzzfeed, Literary Hub, The Guardian, Guernica, VQR, The Believer, Salon,  and elsewhere.  Honors include a Pushcart Prize, The Chicago Tribune's Nelson Algren Award, and fellowships from the National Endowment for the Arts, the New York Foundation for the Arts, the Lannan Foundation, and the MacDowell Colony.  An avid world traveler, Raboteau resides in New York City and teaches creative writing in Harlem at City College, once known as "the poor man's Harvard."
---
If you have author contacts and/or would like to participate in the Book Group, send an email to the group leader, Allison Powell, to connect@tamidnyc.org. Publishers or authors are invited to send a copy of their title to Ms. Powell, c/o Tamid: 299 Broadway #1020, New York, New York, 10007
Thank you!
---
Previous Book Groups 2014-2017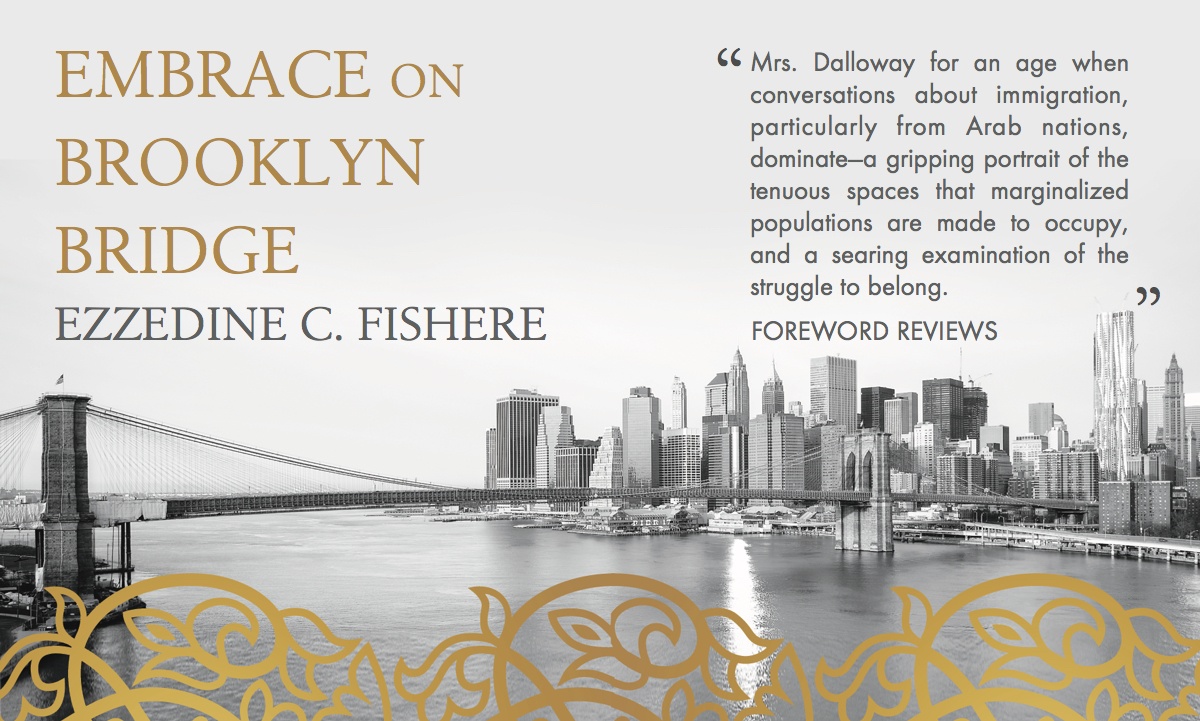 We will host author and Dartmouth College Professor Ezzedine Fishere to discuss his new book and sign copies, Embrace on Brooklyn Bridge. On the eve of Salma's twenty-first birthday, scattered friends and family converge on New York for a celebration organized by Darwish, her obstinate grandfather. Each guest's journey to this fated gathering takes on an unexpected significance, as they find themselves revisiting the choices they have made in life, and rethinking their relationships with one another and the country in which they live. Traveling seamlessly between Egypt and the United States, Embrace on Brooklyn Bridge is a story about how we construct and shift our identities, and about a family's search for home.
"Fishere's method movingly teases out the spaces between belonging and forced, awkward fits, and the result is certain to endure in the reader's consciousness . . . . [Embrace on Brooklyn Bridge] is Mrs. Dalloway for an age when conversations about immigration, particularly from Arab nations, dominate—a gripping portrait of the tenuous spaces that marginalized populations are made to occupy, and a searing examination of the struggle to belong." —Foreword Reviews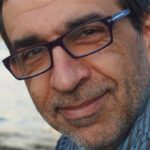 Meet author Ezzedine Fishere who will discuss his novel at the book group meeting and be available to sign books. Mr. Fishere is an acclaimed Egyptian writer, academic, and diplomat. He has written numerous successful and bestselling novels and he also writes political articles for Arabic, English, and French news outlets. He currently teaches at Dartmouth College in the US, where he lives.
Read this recent review on Facebook.
---
Good on Paper
 Is a new life possible? Because Shira Greene's life hasn't quite turned out at planned. Shira is a permanent temp with a few short stories published in minor literary magazines and an abandoned PhD on Dante's Vita Nuova. Her life has some happy certainties, though: she lives with her friend Ahmad and her daughter Andi on the Upper West Side of Manhattan. They're an unconventional family, but a real one, with Friday night dinner rituals, private jokes, and the shared joys and strains of any other family. So when Romei, winner of last year's Nobel Prize and the irascible idol of grad students everywhere, asks her to translate his new book, Shira is happy . . . but stunned. Suddenly, she sees a new life beckoning: academic glory, a career as a literary translator, and even love. That is, until Romei starts sending her pages of the manuscript and she realizes that something odd is going on: his book may in fact be untranslatable. A deft, funny, and big-hearted novel about second chances, Good on Paper is a grand novel of family, friendship, and possibility.
About the Author: Rachel Cantor is the author of the acclaimed debut novel A Highly Unlikely Scenario, and her short stories have appeared in The Paris Review, One Story, Ninth Letter, and The Kenyon Review, among other publications. Cantor was raised in Rome and Connecticut, and currently lives in Brooklyn, NY.
---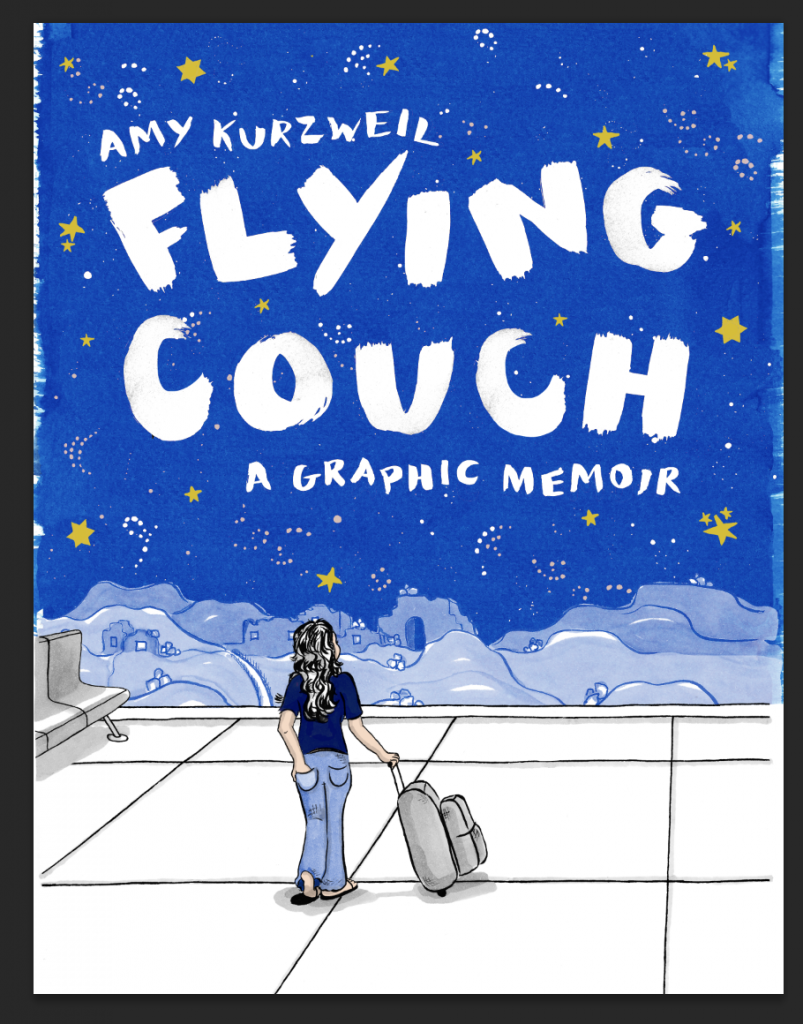 Flying Couch: A Graphic Novel
Amy Kurzweil's debut, tells the stories of three unforgettable women. Amy weaves her own coming-of-age as a young Jewish artist into the narrative of her mother, a psychologist, and Bubbe, her grandmother, a World War II survivor who escaped from the Warsaw Ghetto by disguising herself as a gentile. Captivated by Bubbe's story, Amy turns to her sketchbooks, teaching herself to draw as a way to cope with what she discovers. Entwining the voices and histories of these three wise, hilarious, and very different women, Amy creates a portrait not only of what it means to be part of a family, but also of how each generation bears the imprint of the past.
A retelling of the inherited Holocaust narrative now two generations removed, Flying Couch uses Bubbe's real testimony to investigate the legacy of trauma, the magic of family stories, and the meaning of home. With her playful, idiosyncratic sensibility, Amy traces the way our memories and our families shape who we become. The result is this bold illustrated memoir, both an original coming-of-age story and an important entry into the literature of the Holocaust.
 About the Author: Amy Kurzweil's comics appear in The New Yorker and other publications. Her series GutterFACE is hosted by the literary webcast drDOCTOR and her short stories have appeared in The Toast, Washington Square Review, Hobart, Shenandoah, and elsewhere. She teaches writing and comics at Parsons School of Design and at the Fashion Institute of Technology. Amy lives in Brooklyn.
---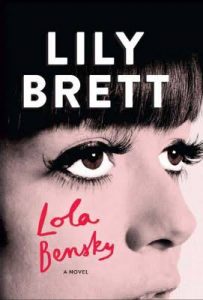 Lola Bensky – A Novel
Winner of France's Prix Médicis Étranger. Lola Bensky is a nineteen-year-old rock journalist who irons her hair straight and asks a lot of questions. A high-school dropout, she's not sure how she got the job but she's been sent by her Australian newspaper right to the heart of the London music scene at the most exciting time in music history: 1967. In London, New York and LA, Lola interviews the biggest rock stars of the day, including Jimi Hendrix, Mick Jagger and Janis Joplin. But she begins to wonder whether the questions she asks are really a substitute for questions about her parents' past that can't be asked or answered. With time, she discovers the question of what it means to be human is the hardest one for anyone – including herself – to answer.
Drawing on her own experiences as a young journalist, Lily Brett shows in Lola Bensky just why she is one of our most distinctive and internationally acclaimed authors.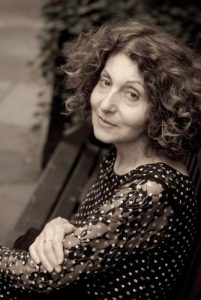 About the Author: When Lily Brett was 18, she was hired as a writer for a rock music magazine in Australia, where she grew up. They hadn't asked her about her skill level or interest in writing at the interview. By contrast, they asked her if she had a car. She did, and she started the next day. Lily interviewed scores of musicians, including musicians who became legends, such as Janis Joplin, Jimi Hendrix, and Mick Jagger. Today, Lily Brett is a prolific novelist, essayist, and poet.  She has written seven novels, four collections of essays, and eight volumes of poetry.  She has lived in New York City with her husband and three children since 1989.
---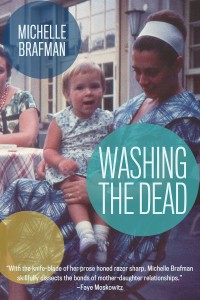 Washing the Dead
Barbara Blumfield, a big-hearted suburban Milwaukee mom and preschool teacher, was seventeen years old when her mother's affair ripped her family from their Orthodox Jewish community. When the rabbi's wife summons Barbara to perform the ritual burial washing of her beloved teacher, she walks back into the spiritual and emotional home her mother burned down. Exhuming generations of secrets is the only way Barbara can forgive her estranged mother and in turn spare her daughter their crippling family legacy.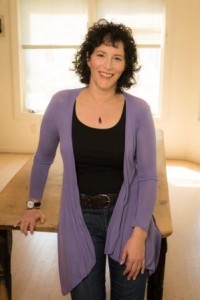 About the Author: Michelle Brafman's other books are We Named Them All and Bertrand Court, forthcoming in September 2016.  She has received numerous awards for her short fiction, including a Special Mention in the Pushcart Prize Anthology. Her fiction and essays have appeared in the Washington Post, Slate, Tablet, The Minnesota Review, Fifth Wednesday Journal, Lilith Magazine, and numerous other publications. She teaches fiction writing at the Johns Hopkins University MA in Writing Program and lives in Glen Echo, Maryland with her husband and two children.
---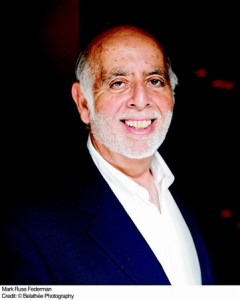 RUSS & DAUGHTERS
Mark Russ Federman, grandson of founder Joel Russ, took over the running of Russ & Daughters from his parents in 1978 and turned it over to the fourth generation, his daughter, Niki, and nephew Josh, in 2009.
In this memoir, the former owner/proprietor of the beloved appetizing store on Manhattan's Lower East Side tells the delightful, mouthwatering story of an immigrant family's journey from a pushcart in 1907 to "New York's most hallowed shrine to the miracle of caviar, smoked salmon, ethereal herring, and silken chopped liver" (The New York Times Magazine).
When Joel Russ started peddling herring from a barrel shortly after his arrival in America from Poland, he could not have imagined that he was giving birth to a gastronomic legend. Here is the story of this "Louvre of lox" (The Sunday Times, London): its humble beginnings, the struggle to keep it going during the Great Depression, the food rationing of World War II, the passing of the torch to the next generation as the flight from the Lower East Side was beginning, the heartbreaking years of neighborhood blight, and the almost miraculous renaissance of an area from which hundreds of other family-owned stores had fled.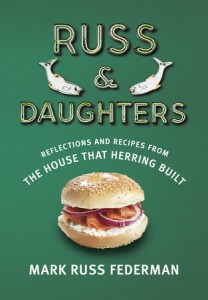 Filled with delightful anecdotes about how a ferociously hardworking family turned a passion for selling perfectly smoked and pickled fish into an institution with a devoted national clientele, Mark Russ Federman's reminiscences combine a heartwarming and triumphant immigrant saga with a panoramic history of twentieth-century New York, a meditation on the creation and selling of gourmet food by a family that has mastered this art, and an enchanting behind-the-scenes look at four generations of people who are just a little bit crazy on the subject of fish.
---
The Jazz Palace
In the midst of boomtown Chicago, two Jewish families have suffered terrible blows. The Lehrmans, who run a small hat factory, lost their beloved son Harold in a blizzard. The Chimbrovas, who run a saloon, lost three of their boys on the SS Eastland when it sank in 1915. Each family holds out hope that one of their remaining children will rise to carry on the family business. But Benny Lehrman has no interest in making hats. His true passion is piano—especially jazz. At night he sneaks down to the South Side, slipping into predominantly black clubs to hear jazz groups play. One night he is called out and asked to "sit in" on a group. His playing is first-rate, and the other musicians are impressed. One of them, the trumpeter, a black man named Napoleon, becomes Benny's close friend and musical collaborator, and their adventures together take Benny far from the life he knew as a delivery boy. Pearl Chimbrova recognizes their talent and invites them to start playing at her family's saloon, which Napoleon dubs "The Jazz Palace." But Napoleon's main gig is at a mob establishment, which doesn't take too kindly to freelancing. And as the '20s come to a close and the bubble of prosperity collapses, Benny, Napoleon, and Pearl must all make hard choices between financial survival and the music they love.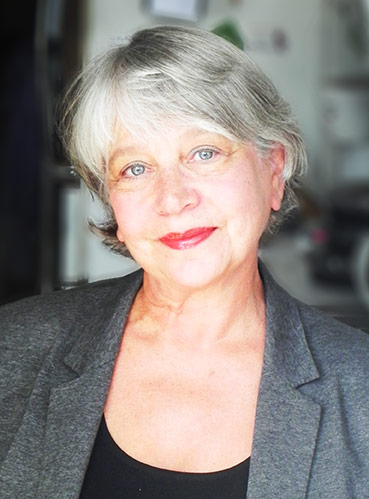 ABOUT THE AUTHOR Born in Chicago in l947, Mary Morris moved East to go to college. Though she never returned to the Middle West, she often writes about the region and its tug. Morris's stories often deal with the tension between home and away. Travel is an important theme in many of the stories in her three collections, including Vanishing Animals, The Bus of Dreams, and The Lifeguard Stories. It is also a recurrent theme in her trilogy of travel memoirs, including the acclaimed Nothing to Declare: Memoirs of a Woman Traveling Alone, Wall to Wall: from Beijing to Berlin by Rail, and Angels & Aliens: A Journey West. In her five novels, including The Waiting Room, The Night Sky (formerly published as A Mother's Love) and House Arrest, Morris writes of family, its difficulties and disappointments, its iron grip and necessity, and ultimately the comfort family can bring. Whether writing fiction or non-fiction, Morris sees herself as a storyteller, weaving tales. She lives in Brooklyn with her husband and daughter and teaches writing at Sarah Lawrence College.
---
Ghetto Brother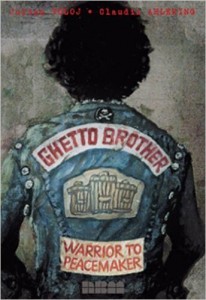 An engrossing and counter view of one of the most dangerous elements of American urban history, this graphic novel tells the true story of Benjy Melendez, a Bronx legend, son of Puerto-Rican immigrants, who founded, at the end of the 1960s, the notorious Ghetto Brothers gang. From the seemingly bombed-out ravages of his neighborhood, wracked by drugs, poverty, and violence, he managed to extract an incredibly positive energy from this riot ridden era: his multiracial gang promoted peace rather than violence. After initiating a gang truce, the Ghetto Brothers held weekly concerts on the streets or in abandoned buildings, which fostered the emergence of hip-hop. Melendez also began to reclaim his Jewish roots after learning about his family's dramatic crypto-Jewish background.
ABOUT THE AUTHOR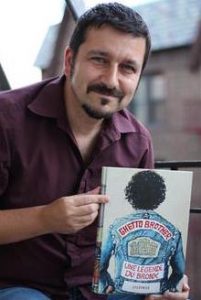 German-born photographer and writer Julian Voloj explores identity and heritage in his work. He has been featured in a variety of newspapers and magazines such as The New York Times, the Washington Post, and the Jerusalem Post. His award-winning work has been exhibited in museums and galleries around the globe including the Deutsch-Historisches Museum (Berlin), the Bronfman Center at NYU, and the Queens Museum of Arts (New York). In 2012, the German Consulate, New York, showed a ten-year retrospective of his photography titled "Only in New York." In 2010, he photographed the former gang leader and Crypto-Jew Benjamin Melendez. The two became friends and Julian decided to turn his life into a graphic novel, Ghetto Brother. The book, illustrated by Claudia Ahlering, has been published in English, Spanish, German, French, and Portuguese.
---
Safekeeping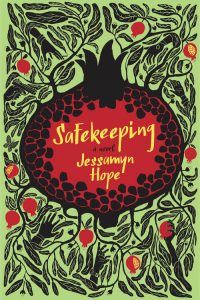 A dazzling debut novel about love, loss, and the courage it takes to start over. It's 1994 and Adam, a drug addict from New York City, arrives at a kibbutz in Israel with a medieval sapphire brooch. To redress a past crime, he must give the priceless heirloom to a woman his grandfather loved when he was a Holocaust refugee on the kibbutz fifty years earlier. But first, he has to track this mystery woman down—a task that proves more complicated than expected. On the kibbutz Adam joins other lost souls who are driven together by love, hostility, hope, and fear, their fates forever entangled as they each get one last shot at redemption.
ABOUT THE AUTHOR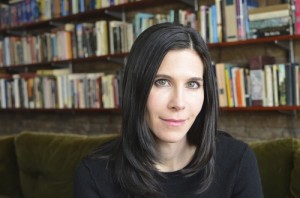 Jessamyn Hope is the author of the newly released novel Safekeeping—a recommended read for summer 2015 by the Boston Globe, star-reviewed by Shelf Awareness, acclaimed by the Globe and Mail, Tablet Magazine, Booklist, and Library Journal.Her short fiction and memoirs have appeared in Ploughshares, Five Points, Descant, PRISM International, and elsewhere. A chapter book of her personal essays was published by Peter Cameron's Wallflower Press. Her stories in Ploughshares, PRISM, and Green Mountains Review were nominated for Pushcart Prizes. She has an MFA in creative writing from Sarah Lawrence College. Born and raised in Montreal, she lived in Israel before moving to New York City.
---
Suite Française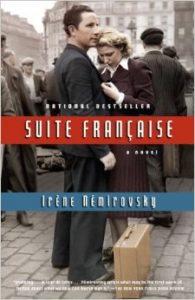 Beginning in Paris on the eve of the Nazi occupation in 1940, Suite Française tells the remarkable story of men and women thrown together in circumstances beyond their control. As Parisians flee the city, human folly surfaces in every imaginable way: a wealthy mother searches for sweets in a town without food; a couple is terrified at the thought of losing their jobs, even as their world begins to fall apart. Moving on to a provincial village now occupied by German soldiers, the locals must learn to coexist with the enemy—in their town, their homes, even in their hearts.When Irène Némirovsky began working on Suite Française, she was already a highly successful writer living in Paris. But she was also a Jew, and in 1942 she was arrested and deported to Auschwitz, where she died. For sixty-four years, this novel remained hidden and unknown.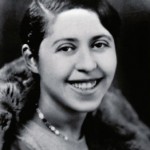 ABOUT THE AUTHOR Irène Némirovsky was born in Kiev in 1903 into a wealthy banking family and emigrated to France during the Russian Revolution. After attending the Sorbonne, she began to write and swiftly achieved success with her first novel, David Golder, which was followed by The Ball, The Fires of Autumn, Dogs and Wolves and The Courilof Affair. She died in 1942.
---
CUT ME LOOSE: SIN AND SALVATION AFTER MY ULTRA-ORTHODOX GIRLHOOD
Leah Vincent was born into the Yeshivish community, an Ultra-Orthodox Jewish sect that shuns the modern world. When, at sixteen, Leah is caught exchanging letters with a boy—breaking a religious ban on contact between the sexes—her family soon cuts all ties. Sent to live on her own in New York City, adrift and unprepared for the freedoms of secular life, Leah falls into a vicious cycle of promiscuity, self-harm, and abusive relationships. But a harrowing moment of despair moves her to transform her tragic life into a story of unexpected triumph, as she discovers her inner strength, puts herself through college and earns a master's degree at Harvard University. Through Leah's eyes, we gain a rare look into the hidden life of a young woman emerging from an extreme fundamentalist sect, as well as a frank exploration of universal issues of female sexuality and identity.
ABOUT THE AUTHOR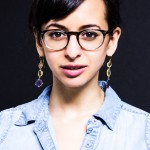 Leah Vincent is the author of Cut Me Loose: Sin and Salvation After My Ultra-Orthodox Girlhood and the co-author of Legends of the Talmud: A Collection of Ancient Magical Jewish Tales. Her writing has appeared in The New York Times, Salon, Unpious, ZEEK, Daily Beast, Jewish Daily Forward and elsewhere. A first generation college student, Leah earned her MA in public policy as a Pforzheimer Fellow at the Harvard Kennedy School. In 2014, Leah was named to both the Jewish Week's 36 Under 36 and the Jewish Daily Forward's Forward 50. She lives in New York City.
---
THE SALINGER CONTRACT: A NOVEL

An enthralling literary mystery that connects some of the world's most famous authors—from Norman Mailer and Truman Capote to B. Traven and J. D. Salinger—to a sinister collector in Chicago. Adam Langer, the narrator of this deft and wide-ranging novel by the author of the same name, tells the intertwining tales of two writers navigating a plot neither one of them could have ever imagined. There may be no other escape than to write their way out of it. Adam is a writer and stay-at-home dad in Bloomington, Indiana, drawn into an uneasy friendship with the charismatic and bestselling thriller author Conner Joyce. Conner is having trouble writing his next book, and when a menacing stranger approaches him with an odd—and lucrative—proposal, events quickly begin to spiral out of control…A novel of literary crimes and misdemeanors, The Salinger Contract will delight anyone who loves a fast-paced story told with humor, wit, and intrigue.
ABOUT THE AUTHOR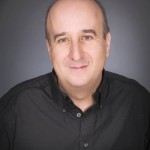 Born and raised in Chicago, Adam Langer is the author of the novels Crossing California, The Washington Story, Ellington Boulevard, and The Thieves of Manhattan. He has written about books and authors for such publications as the Chicago Tribune, the Los Angeles Times, the New York Times, the Huffington Post, the San Francisco Chronicle, and the Washington Post, among others.He is the former senior editor of Book Magazine and currently serves as the arts and culture editor of the Jewish Daily Forward.
---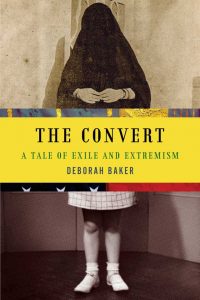 THE CONVERT: A TALE OF EXILE AND EXTREMISM
What drives a young woman raised in a postwar New York City suburb to convert to Islam, abandon her country and Jewish faith, and embrace a life of exile in Pakistan? The Convert tells the story of how Margaret Marcus of Larchmont became Maryam Jameelah of Lahore, one of the most trenchant and celebrated voices of Islam's argument with the West. A cache of Maryam's letters to her parents in the archives of the New York Public Library sends the acclaimed biographer Deborah Baker on her own odyssey into the labyrinthine heart of twentieth-century Islam. Casting a shadow over these letters is the mysterious figure of Mawlana Abul Ala Mawdudi, both Maryam's adoptive father and the man who laid the intellectual foundations for militant Islam. As she assembles the pieces of a singularly perplexing life, Baker finds herself captive to questions raised by Maryam's journey. Is her story just another bleak chapter in a so-called clash of civilizations? Or does it signify something else entirely?
ABOUT THE AUTHOR Deborah Baker is also the author of In Extremis: The Life of Laura Riding, a finalist for the Pulitzer Prize, as well as A Blue Hand: The Beats in India. She divides her time between Goa and Brooklyn.
---
A Replacement Life – A Novel by Boris Fishman.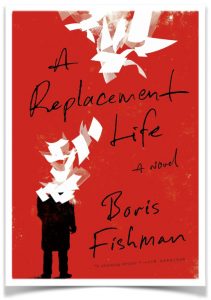 A singularly talented writer makes his literary debut with this provocative, soulful, and sometimes hilarious story of a failed journalist asked to do the unthinkable: forge Holocaust-restitution claims for old Russian Jews in Brooklyn, New York. Yevgeny Gelman, grandfather of Slava Gelman, "didn't suffer in the exact way" he needs to have suffered to qualify for the restitution the German government has been paying out to Holocaust survivors. But suffer he has – as a Jew in the war; as a second-class citizen in the USSR; as an immigrant to America. So? Isn't his grandson a "writer"? A Replacement Life is a dark, moving, and beautifully written novel about family, honor, and justice. ABOUT THE AUTHOR Boris Fishman was born in Minsk, in the former Soviet Union, in 1979, and emigrated to the United States in 1988. His journalism, essays, and criticism have appeared in The New Yorker, The New York Times Magazine and Book Review, The New Republic, The Nation, Harper's, Vogue, The London Review of Books, Wall Street Journal and other publications. Boris received a degree in Russian literature from Princeton University. Afterward, he was on the editorial staff of The New Yorker; edited Wild East: Stories from the Last Frontier, a collection of short stories about the former Soviet Union and Eastern Europe in the early post-Communist years; received a Fulbright research grant to Istanbul, Turkey; and co-wrote and edited the U. S. Senate's report on Hurricane Katrina. Boris received his MFA in fiction from New York University, where he was a New York Times Foundation Fellow. To support his writing, Boris has worked as a hiking guide, a farm laborer, a market researcher for a maker of "temporary concrete," an editor, a fact-checker, and the editorial director of a tech start-up. A Replacement Life is his first novel.
---
A Bintel Brief: Love and Longing in Old New York by Liana Finck.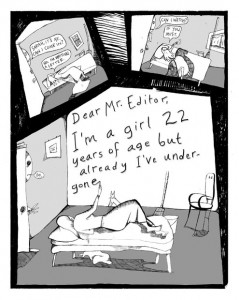 A Bintel Brief—"A Bundle of Letters"—was the enormously popular advice column of The Forward, the widely read Yiddish language newspaper begun in 1906 New York. Written by a diverse community of Eastern European Jewish immigrants, these letters spoke to the daily heartbreaks and comedies of their new lives, capturing the hope, isolation, and confusion of assimilation. Drawn from these letters—selected and adapted by Liana Finck and brought to life in her appealing two-color illustrations—A Bintel Brief is a tour of Lower East Side New York. From premarital sex to family politics to struggles with jobs and money, A Bintel Brief is an enlightening look at a segment of America's rich cultural past that offers fresh insights for our own lives as well.
ABOUT THE AUTHOR: Liana Finck studied fine art and graphic design at Cooper Union College. A former Fulbright fellow and recipient of a Six Points Fellowship for Emerging Jewish Artists, her work has appeared in The New Yorker, The Forward and Tablet, among other publications. She lives in New York City.
---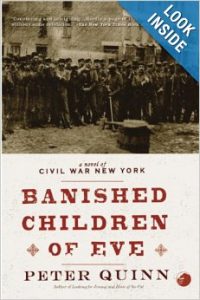 Banished Children of Eve
 The Civil War has just entered its third bloody year and the North is about to impose its first military draft, a decision that will spark the most devastating and destructive urban riot in American history. Banished Children of Eve traces that event as its tentacles grip New York City. The cast is drawn from every strata: a likeable and laconic Irish-American hustler, an ambitious and larcenous Yankee stockbroker, an immigrant serving girl, a beautiful and mysterious mulatto actress and her white minstrel lover as well as a cluster of real-life characters, including scheming, ever-pompous General George McClellan, fiery, fierce Archbishop "Dagger John" Hughes and fast-declining musical genius Stephen Foster. The fates of these characters coalesce in the cataclysm of the Draft Riots, as a pivotal period in the history of New York and the nation is painfully, vividly, magically bought to life. ABOUT THE AUTHOR: Peter Quinn served as speechwriter for two New York governors, and was Editorial Director for Time Warner. Quinn co-wrote the script for the television documentary McSorley's New York and was an advisor on Martin Scorsese's film Gangs of New York. He has published articles and reviews in The New York Times, Commonweal, America, American Heritage, The Catholic Historical Review, The Philadelphia Inquirer, The Los Angeles Times, Eiré-Ireland, and in numerous other newspapers and journals.
---
FOOLS by Joan Silber
 "When is it wise to be a fool for something? What makes people want to be better than they are? From New York to India to Paris, from the Catholic Worker movement to Occupy Wall Street, the characters in Joan Silber's dazzling new story cycle tackle this question head-on. Vera, the shy, anarchist daughter of missionary parents, leaves her family for love and activism in New York. A generation later, her doubting daughter insists on the truth of being of two minds, even in marriage. The adulterous son of a Florida hotel owner steals money from his family and departs for Paris, where he finds himself outsmarted in turn. Fools ponders the circle of winners and losers, dupers and duped, and the price we pay for our beliefs."
---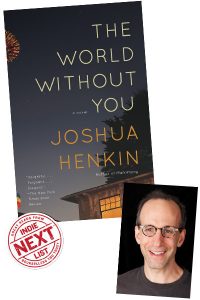 The World Without You
Mr. Henkin will be present to sign books and join the conversation. Here's a short summary: "It's July 4, 2005, and the Frankel family is descending upon their beloved summer home in the Berkshires. But this is no ordinary holiday. The family has gathered to memorialize Leo, the youngest of the four siblings, an intrepid journalist and adventurer who was killed on that day in 2004, while on assignment in Iraq. The parents, Marilyn and David, are adrift in grief. Their forty-year marriage is falling apart. Clarissa, the eldest sibling and a former cello prodigy, has settled into an ambivalent domesticity and is struggling at age thirty-nine to become pregnant. Lily, a fiery-tempered lawyer and the family contrarian, is angry at everyone. And Noelle, whose teenage years were shadowed by promiscuity and school expulsions, has moved to Jerusalem and become a born-again Orthodox Jew. The last person to see Leo alive, Noelle has flown back for the memorial with her husband and four children, but she feels entirely out of place. And Thisbe —Leo's widow and mother of their three-year-old son—has come from California bearing her own secret. Set against the backdrop of Independence Day and the Iraq War, The World Without You is a novel about sibling rivalries and marital feuds, about volatile women and silent men, and, ultimately, about the true meaning of family."
---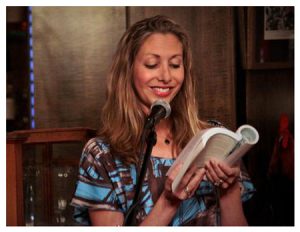 A Dual Inheritance 
Ms. Hershon will be present to sign books and join the conversation. Cambridge, Massachusetts, 1963: two students meet one autumn evening during their senior year at Harvard–Ed, a Jewish kid on scholarship, and Hugh, a Boston Brahmin with the world at his feet. Ed is unapologetically ambitious and girl-crazy, while Hugh is ambivalent about everything aside from his dedicated pining for the one girl he's ever loved.  An immediate, intense friendship is sparked that night, which ends just as abruptly, several years later, although only one of them understands why. A Dual Inheritance is the most accomplished novel of Hershon's career; Delving deep into the lives of two generations, against backdrops as diverse as Dar es Salaam, Boston, Shenzhen and Fishers Island, this keenly perceptive novel about passion, betrayal, class and friendship will leave readers entranced, and questioning these characters' lives and choices long after the last page is turned.
---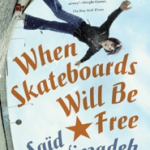 When Skateboards will be Free.
Saïd's Iranian-born father and American Jewish mother had one thing in common: their unshakable conviction that the workers' revolution was coming. Separated since their son was nine months old, they each pursued a dream of the perfect socialist society. Pinballing with his mother between makeshift Pittsburgh apartments, falling asleep at party meetings, longing for the luxuries he's taught to despise, Said waits for the revolution that never, ever arrives. "Soon," his mother assures him, while his long-absent father quixotically runs as a socialist candidate for president in an Iran about to fall under the ayatollahs. Then comes the hostage crisis. The uproar that follows is the first time Saïd hears the word "Iran" in school. There he is suddenly forced to confront the combustible stew of his identity: as an American, an Iranian, a Jew, a socialist… and a middle-school kid who loves football and video games. Poised perfectly between tragedy and farce, here is a story by a brilliant young writer struggling to break away from the powerful mythologies of his upbringing and create a life—and a voice—of his own. Saïd Sayrafiezadeh's memoir is unforgettable.
---

The Middlesteins.
For more than thirty years, Edie and Richard Middlestein shared a solid family life together: two children, a nice house in the Chicago suburbs, ample employment, generous friends. But now things are splintering apart, for one reason, it seems: Edie's enormous girth. She's obsessed with food–thinking about it, eating it–and if she doesn't stop, she won't have much longer to live. Jami Attenberg is the author of Instant Love, The Kept Man, and The Melting Season. Her fiction and essays have been widely anthologized, and she has contributed to The New York Times, Salon, and numerous other publications.  The Middlesteins was a New York Times bestseller and is a finalist for the Los Angeles Times Book Prize for Fiction.
---
A Fortunate Age

This novel details the lives of a group of Oberlin graduates whose ambitions and friendships threaten to unravel as they chase their dreams, shed their youth, and build their lives in Brooklyn during the late 1990s. It won the Goldberg Prize for Jewish Fiction by Emerging Writers, was a New York Times Editors' Pick, a winner of the Elle Readers' Prize, a selection of Barnes and Noble's First Look Book Club, an IndieNext pick, and a San Francisco Chronicle bestseller. Joanna Smith Rakoff has written for The New York Times, the Los Angeles Times, Washington Post Book World, theBoston Globe, Vogue, Time Out New York, O:The Oprah Magazine, and many other newspapers and magazines. Her poetry has appeared in The Paris Review, Western Humanities Review, Kenyon Review, and other journals. She has degrees from Columbia University, University College, London, and Oberlin College.
---
If you have author contacts and/or would like to participate in the Book Group, send an email to the group leader, Allison Powell, to connect@tamidnyc.org. Thank you!