+Tamid @ St. Paul's? The story
Tamid @ St. Paul's Chapel?How it happend.
By Rabbi Darren Levine
In early February I was taking a run along the Battery Park City promenade at dawn and I saw the sun reflecting off the buildings across the Hudson – at Exchange Place in Jersey City. I started ruminating on the meaning of light and the influence that light has on our spiritual lives. Being that it was February, daylight was still at a premium.
My mind jumped to the power of light in sacred spaces. I've always appreciated the design of those sanctuaries and churches that capture natural light in certain ways – as if to tell a story – or  to direct someone's soul and attention in a certain direction.
St. Paul's Chapel came to mind as a light filled place – arguably the most well lit house of worship in Lower Manhattan. Then it dawned on me that if we can get lift off for Tamid, we're going to need a worship space. Why not St. Paul's. We wouldn't be the first synagogue to meet in a Chapel – it's happening all across the country and there's certainly historic precedent.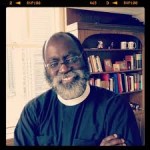 I got back home and went on-line to see if Trinity Church rents out St. Paul's and I was stuck in my seat. The Trinity site loads and who do I recognize dressed up in Pastor's regalia? A fellow neighborhood basketball dad. For two years, we'd been taking our sons to play hoops before school at the local court but we never really got around to talking about what we did professionally. Could it be – Reverend Mark Buzzuti-Jones? That's Father Mark in the picture.
I called him up and we were laughing in his office at Trinity two hours later telling jokes about a rabbi and a priest who walk onto a basketball court. That was the turning point. As he said, "It reminds you to be nice to everyone you meet. You never know what kind of invisible strings the Holy One is pulling."
Rare though they are – so I think – the power of Divine Providence strikes again.
Thank you Mark and thank you Trinity for opening your doors with such welcoming arms to Tamid. We look forward to a long relationship formed on the bonds of love.