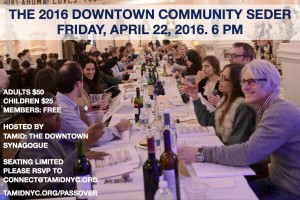 The Downtown Community Seder is one of the most festive and fun places to celebrate Passover. Great music, great food, and great fun for all ages. It's a communal celebration of the most important Jewish memory – freedom from servitude!
Bring your family and friends and join the communal table at the most historic chapel in New York City – the chapel where George Washington prayed on the day he was inaugurated President of the United States – a great moment of freedom for our country!
DETAILS
Friday, April 22, 2016
6 PM
9/11 Chapel, 209 Broadway.
RESERVATIONS
$50 per adult*, $25 per child*. (*Seder is included in membership for current Tamid members).
Seating is limited.
Members click here to RSVP
Guests and Non-Members click here to RSVP 
Please let us know if you have any questions.
We look forward to celebrating with you on April 22nd!